Monday, March 31, 2008
Rave of the Day for March 31, 2008:
Here's a very good reason to take pain seriously and treat it before it becomes intractable: it can cause brain damage! I can personally vouch for the brain fog....
Chronic Pain Harms the Brain
This is a FANTASTIC article about the thought process that accompanies adjusting to chronic ailments. I'm considering acquiring the full book about it....
Coping with Chronic Illness
Finally, here's an article that appeared in NeuroTalk Communities (it's on my Links list) but might have its origins elsewhere. Some of it is a bit simplistic, but there are good ideas in here too....
101 Ideas to Empower Persons In Pain to Survive & Thrive!
As you all know, just getting through any day with persistent pain is a challenge.
These are easy-to-do, empowering tools and resources to help you better manage your pain, improve your care and, ultimately, enhance your quality of life.
Remember to have fun—and seize the day!
Self-Care
Relaxation/Meditation
1. Seek out things that make you laugh—remember, laughter is the best medicine!
2. Slow down—and breath deeply…
3. Use aromatherapy—relax to your favorite scents.
4. Meditate, with a group or by yourself.
5. Listen or make music (i.e., play a CD, sing or play an instrument.)
6. Get a massage by a professional masseuse – or someone you love…
7. Take a long bubble bath and light some candles.
8. Buy a bouquet of flowers to cheer up your surroundings!
9. Grow something—commune with Mother Nature!
10. Stir your imagination—imagine a pleasant experience, moment, sensation…
11. Make or craft something (i.e., knit a scarf, do pottery, build something, do woodworking, etc.)
12. Go to an outdoor concert, and don't forget to pack a picnic.
13. Treat yourself to a manicure and/or pedicure. Be a queen for a day!
14. Explore an antique store—lose yourself among the treasures…
Cognitive/Mental Strategies
15. Practice mindfulness—be in the moment…
16. Try art therapy (i.e., paint or draw a picture that shows how you feel!)
17. Use narrative therapy (i.e., write your pain experience.)
18. Keep a gratitude/affirmation log (write down three things you're grateful for each day.)
19. When depression and/or anxiety hits, don't fight it. Know it's a part of the natural pain experience. But don't hold on for too long…
20. Accept that everything you're feeling is real and normal.
21. Take a class, learn something new—and stimulate your mind!
22. Wear a bright color—they excite the senses!
23. Reflect upon affirming, positive memories…
24. Read a great book—or a breezy romance novel.
25. Express your true and authentic self. You're the only you!
26. Think positive, affirming things about yourself.
27. Take a trip, even if it's a virtual one.
28. Seek support through a professional pain counselor.
29. Make a change and surprise yourself (i.e., get a new haircut, try a new recipe, etc.)
30. Get dressed up and put your make-up on, just because it makes you feel good!
31. Keep a positive attitude, hang in there and keep the faith!
32. Practice appreciation for your health care providers—more often than not, they're trying their best to help…
33. On a bad day, remember what Scarlet O'Hara said, "Tomorrow is another day!"
34. Notice and appreciate the splendor season changes…
35. Learn a foreign language…or two! Exercise that part of the brain that doesn't read pain signals.
36. Choose something you love, and do it every week, same day and time. A joyful routine gives you something sweet to look forward to…
37. Don't let your pain define you. Remember that while pain is now a part of your life experience, it's not your identity.
Care of the Body
38. Exercise regularly and keep your body moving. Hydrotherapy in warm water is especially effective with pain conditions.
39. Eat a healthy diet (fruits, vegetables, lean meats, etc.)
40. Avoid or quit smoking!
41. Practice good sleep habits—enjoy waking up refreshed and renewed.
42. Be open to alternative and complementary therapies (i.e., acupuncture, guided imagery, etc.)
43. Have realistic expectations about therapies (i.e., have you given your physical therapy regimen enough time to help?)
44. Educate yourself about your pain condition. But don't obsess and let it consume you…
45. Listen to your body talk—you know it better than anyone else!
46. Learn to say "no"—avoid stress by not over-burdening/committing yourself.
47. Spend time in the sun—and don't forget that all-important sun block!
48. Practice good posture. A well-aligned and supported spine is virtually guaranteed to help any pain condition.
Relationships
49. Do something nice for someone—it feels good, and that energy is sure to come back your way.
50. Learn to forgive those who have disappointed you throughout your pain experience; anger is further fuel for pain!
51. Adopt a pet. Unconditional love is good for the soul…
52. Give someone a hug—who knows, you might just get two back!
53. Volunteer for your favorite charity, school or organization. Doing good is chicken soup for the soul!
54. Throw yourself a party. Celebrate an accomplishment with family and friends!
55. Get involved in your community (i.e., attend neighborhood council meetings, help plan a block party, etc.)
56. Seek out fellow chronic pain sufferers through on-line discussion boards and support groups at medical centers. These bonds could last a lifetime.
57. Don't forget about lovemaking with your partner. Intimacy is second to none to revive the soul and senses!
58. Spend quality time with a child or children (yours, nieces or nephews, etc.)—they'll help you see the world with eyes of wonder!
59. Have an afternoon tea with some girlfriends.
60. Accept an invitation to a party or other social event, even if you're in pain. It's great misdirection—and you'll probably find yourself having a dandy time!
61. Be open to talking to family and friends about your pain experience—and answering their naturally inquisitive questions. If they're curious, they probably care. Try not to shut them out…
62. Remove toxic people from your life—as stress and strain that comes from bad relationships makes pain worse. It's appropriate to walk away from inappropriate people!
Assertiveness
63. Remember it's your body—and ultimately all possible treatment options are your choice.
64. Be prepared for your doctor visits (i.e., have questions ready, be educated about your pain condition(s), etc.)
65. Partner with your doctor. You'll get better pain care results if you work as a team. Find a good advocate at your health insurance company.
66. Bring a family member or friend with you when you go to a doctor's appointment. They can advocate for you—and it's good for your doctor to know someone cares and is watching out for you.
67. Examine and weigh your therapy options—the biggest "guns" may not be the answer for you.
68. Don't let your doctor pressure you into a therapy that you don't want to do!
69. Interview your pain management provider (i.e., What kind of therapies do you support for my condition?, Are you open to alternative/complementary therapies?, etc.)
70. Remember, one size doesn't fit all when it comes to pain treatments. We're all unique—and what helps one person may not help another.
71. Seek out references with any doctor referral (i.e., talk to other patients, look up his/her standing with the state medical board, etc.)
72. Make sure your treating health care professional is assessing your pain level during each visit—remember, pain assessment is "the fifth vital sign."
73. Find out if your hospital and/or clinic has a "Patient's Bill of Rights"—and if so, make sure your treating health care professionals are following it.
74. Learn about the potential side effects of any and all medications you are considering or presently taking. Sometimes their adverse side effects can create more harm than the problem you're taking the medication(s) for.
75. Run—don't walk!—from any physician or other health care professional who doubts, dismisses and/or discounts your report of pain!
76. Encourage your family and friends to educate themselves about your pain condition(s) (i.e., provide them with website resources, articles, etc.)
77. Educate yourself about all of your therapy/treatment options (including complementary and alternative choices)—this will enable you to make the best, most informed decisions about your pain management care.
Clinical Advice
78. Using a rating scale such as 0 to 10 (0 = no pain, 10 = worst pain) is a useful way to communicate your pain to others and assess changes in your own pain.
79. Use the rating scale to rate how much relief you are receiving. For example, if your pain therapy relieves your pain from a "10" to a "7", this is a good step. But knowing your pain is a "7" should suggest that you still require additional help.
80. Prevention of pain is key. Anticipate things that bring your pain on (exhaustion, dehydration, stress, etc.) and make every attempt to prevent pain versus responding only when it happens.
81. When taking pain medication, always consider what non-drug treatment you could use along with it. Using heat/cold/massage/relaxation can diminish anxiety and distract you from the pain until the medication can begin working.
82. Discover accurate and effective words to describe your pain (i.e., burning, stabbing, aching, pins and needles, electrical, throbbing, etc.) to help your health care provider with diagnosis and treatment.
83. For chronic pain problems, it is generally better to take medications on a regular, around-the-clock schedule rather than only on a "prn"/as needed basis only when pain is severe.
84. Fortunately, there are many choices of analgesics (be it traditional, complementary or alternative)—so if a particular pain therapy that has been prescribed doesn't work or causes side-effects, ask to try another.
85. In general for chronic pain, long-lasting medications are preferred to offer several hours of undisturbed sleep or activity.
86. If your doctor prescribes physical therapy, be sure to find a therapist you have a rapport with. Explain your symptoms carefully, and go over your doctor's report together. Also be sure to immediately alert your therapist to any pain you're experiencing as a result of a therapy exercise.
87. "Breakthrough pain" is pain that occurs in episodes between doses of medications. Discuss this with your physician to determine if breakthrough medications are needed.
88. Inactivity or decreased function is a major problem in chronic pain and results in muscle weakness, dependence, depression—and this cycle only worsens over time. Try to maintain activity if at all possible.
89. Depression and anxiety are generally an integral part of the pain experience—and can become severe. Don't hesitate to tell your pain management provider about these feelings and indeed ask for a referral for a support group and/or psychologist. Your doctor should know psychologists who specialize in pain.
Web-based Resources
90. Check out The Intractable Pain Patient's Handbook for Survival by Dr. Forrest Tennent. Download a copy here: http://pain-topics.org/pdf/IntractablePainSurvival.pdf
91. Here's a wonderful resource to help the people who care about you. Surviving a Loved One's Chronic Pain by David Kannerstein, PhD and Sarah M. Whitman, MD. Download a copy http://www.ppmjournal.com/PDFs/PPM_J...annerstein.pdf
92. Here's a great, up-to-date resource about pain medications! American Chronic Pain Association's 2007 Medication & Chronic Pain Supplement. Download a copy http://www.theacpa.org/documents/ACPA%20Me...007%20Final.pdf
93. Get educated and informed about your pain condition(s)! Pain Information Library sponsored by the American Pain Foundation. http://www.painfoundation.org/page.asp?fil...brary/Index.htm
94. Go to the American Chronic Pain Association's website and read their "Ten Steps from Patient to Person" http://www.theacpa.org/pf_02_04.asp
95. Review For Grace's "Women In Pain Bill of Rights" to get a better understanding of what you should expect in your patient/doctor relationship.
96. Go the National Pain Foundation's "My Journey" section and find links to patient support groups throughout the US:
http://www.nationalpainfoundation.org/MySu...nkDirectory.asp
97. Go to PainTopics.org's website and find an excellent section on pain patient resources, tools and information: http://pain-topics.org/patient_resou...2.php#chronic1
98. Download a notebook from the American Pain Foundation to journal your pain experience: http://www.painfoundation.org/Publications/Notebook.pdf
99. Visit Pain.com and see their full array of consumer support tools and forms: http://www.pain.com/sections/consumers/pai...ort/pain_tools/
100.Become a member of American Pain Foundation's thriving on-line PainAid community. Take the first step http://painaid.painfoundation.org/
101.Power Over Pain is a grassroots movement that encourages those in pain to become advocates in their own communities. Join the charge to put pain on the map as a major health issue: http://www.painfoundation.org/poweroverpai...ile=network.htm
Saturday, March 29, 2008
Fell today...
Will try to keep this short as I'm experiencing quite a bit of pain, fatigue and brain fog (although I've never been one for brevity). Please disregard if I'm not making sense.
Went on Imuran in January for Sjogren's and other autoimmune issues. After about a month, I noticed a decrease in the intensity and frequency of neuropathy symptoms along with a few other signs that the med might be helping.
Unfortunately, I simultaneously experienced a HUGE increase in fibromyalgia symptoms. I don't believe that the fibromyalgia itself got worse, just that my brain could only comprehend so much illness at a time and only after the Sjogren's had receded somewhat did I realize how bad the fibromyalgia has been all this time.
I figured the fibromyalgia was just in a flare mode, so I expected to start feeling better after awhile. But it did not let up, and last week, I started getting consistent numbness and pain in my feet whenever I stood for more than a few minutes along with some other indications the Imuran might be losing effectiveness (like the return of rashes, mouth lesions and swelling of lymph nodes).
Today, I overdid it by actually shopping for clothes, something I only do twice a year or so (I had gift cards just begging to be spent). I was on my feet for at least an hour.
After I'd had some lunch, I was in the kitchen squatting down for just a few seconds to get something out of a low cabinet. My feet went totally numb, which is nothing new, but then my ankles seemed to lose the ability to hold me up, which has never happened before.
Down I went! Fortunately, my husband saw it happen, helped drag me back up, and held onto me until the feeling came back in my feet and I felt steady enough to stand by myself.
Wondering if there's a possibility the sudden ankle weakness could be related to neuropathy? Am not thinking clearly enough at present to research but was curious nevertheless.
Tuesday, March 25, 2008
Still fumbling around in Flare-ville....
After a flare lasts for awhile, I start to wonder if it's truly a temporary flareup of symptoms or the beginning of a permanent deterioration. It's practically impossible to tell the difference as I've experienced both so many times. Most people with chronic ailments will tell you they have good days and bad days, but to be truthful, they also go through phases where all they get are bad and worse.
So, no, I never did get started on that article, but I've gotten fed up with waiting for my head to clear. I expect to try to tackle writing it sometime this week if I can get a decent opening sentence going. Sometimes, I just have to face the fact that this may be as good as I get and proceed in spite of that.
Did take up a fair amount of time researching life insurance. Yeah, I know, it seems kinda stupid for someone in such dire financial straits to look for yet another thing to spend money on. But in some ways, I need insurance more than someone with ample dough.
When Dan and I were first married, we were sold a policy that was misrepresented to us as a "retirement fund". It was, in fact, a life insurance policy, one that didn't pay out unless you lived to 100 years old, and it only covered Dan when it was supposed to cover us both.
This company had a class action suit against it because of their dishonest tactics. We won, but the settlement only allowed us to convert the policy to an annuity, one that had a hefty surrender fee that luckily was not permanent. Unfortunately, the total value of the annuity was far less than what we had already paid into it.
Well, in 2006, when Dan got the Sioux Falls job and I was stuck in Denver for six months trying to sell the house, our savings account ran dry. We did get an offer on the house just in time, but we had no cash for a down payment on our next home because we took such a hit on the selling price of the Denver home. So we had to cash out that annuity and eat the surrender fee.
A year later, I have nothing that protects my ability to keep this house should Dan die before the mortgage is paid. Yeah, I could try to sell it and move someplace cheaper, but rent won't be much cheaper than a mortgage, and I'd still not have enough via SSDI to live on even if I had no housing payments, not with my medical bills. And I probably wouldn't qualify for housing assistance because so many people on disability here get even less than I do.
So the sensible thing to do would be to get a relatively cheap level term life insurance policy for Dan. He has 30 years before retirement, and we have 29 years left on the mortgage. I checked out the prices, and a policy with a best-rated company would cost us only one-fourth of what that bogus "retirement fund" was draining from us.
Ack. Three days have passed since I started this post. All the stuff I wanted to write seems to have evaporated, so I will just publish this and start a new entry when I can remember what else I wanted to say.
I swear, my mind is like a sieve.
Monday, March 24, 2008
Bonus Rave of the Day for March 24, 2008:
Okay, I was actually born during the 1960's, so I don't actually remember some of the following firsthand. But I thought it would be fun to take a cruise through secondhand memory lane, link courtesy of Pete....
Take Me Back to the Sixties
The majority of my formative years were during the '70's; I wonder what fond nostalgia would best epitomize that time frame? The Solid Gold Dancers?
Rave of the Day for March 24, 2008:
Food for thought: here's what the president of the United Church of Christ has to say about Obama's pastor. Note: this was published BEFORE Obama made his speech last week.
Responding to Wright controversy, Thomas asks, "What kind of prophet?"
I must say I was rather shocked at the volume of negative response (see the comments below the video clip) to Reverend Thomas' statement. Oh, well, this is not a denomination to shy away from divisive issues.
Sunday, March 23, 2008
Happy Easter!
Thursday, March 20, 2008
Rave of the Day for March 20, 2008:
This is obviously meant to be e-mailed, but it amused me enough to post it here. Thanks again to Pete for the giggles....


...even if some of us are only 'computer' friends.....

True Friendship
None of that Sissy Crap

Are you tired of those sissy 'friendship' poems that always sound good, but never actually come close to reality? Well, here is a series of promises that actually speak of true friendship. You will see no cutesy little smiley faces on this card- Just the stone cold truth of our great friendship.

1. When you are sad -- I will jump on the person who made you sad like a spider monkey.

2. When you are blue -- I will try to dislodge whatever is choking you.

3. When you smile -- I will know you are plotting something that I must be involved in.

4. When you are scared -- I will rag on you about it every chance I get.

5. When you are worried -- I will tell you horrible stories about how much worse it could be until you quit whining.

6. When you are confused -- I will use little words.

7. When you are sick -- Stay away from me until you are well again. I don't want whatever you have.

8. When you fall -- I will point and laugh at your clumsiness.

9. This is my oath.... I pledge it to the end. 'Why?' you may ask; 'because you are my friend'.

P.S. Friendship is like peeing your pants: everyone can see it, but only you can feel the true warmth.

Tuesday, March 18, 2008
Rave of the Day for March 18, 2008:
Right now, I don't care what particular political affiliation you have, or even if you don't have one at all. Barak Obama made an amazing speech, and I think it's worth a listen and some deep consideration. If you have a high speed internet connection, go here to watch:
A More Perfect Union
If you have dial-up or for some reason can't get the link to work, I have reprinted the speech at the end of this post. And even if you have seen the speech, you might want to scroll down and review it because this is far from run of the mill. My thanks to Dr. Karen for the link.
Wanted to mention that I have the same religious affiliation as Mr. Obama: the United Church of Christ. While the congregation at his church is primarily black, the UCC is probably one of the most inclusive denominations as it accepts ALL people regardless of color, sexual orientation or past affiliation (I, for example, am an ex-atheist). The only requirement to join the United Church of Christ is that you accept the teachings of Jesus.
I was impressed that Mr. Obama was brave enough to broach the subject matter of his speech. It would have been much safer to backpedal, denounce his pastor as racist or ignore the issue, and many candidates might have attempted that. I think this speech is either gonna make or break his run for the presidency.
Racism is such an uncomfortable issue. But I think Mr. Obama was right to mention how prevalent it is. Many of my family members are either intentionally or unintentionally racist, and as much I hate that about them, I cannot disown them but must co-exist with them.
So without further ado, here is the text of Barak Obama's speech:
"We the people, in order to form a more perfect union."
Two hundred and twenty one years ago, in a hall that still stands across the street, a group of men gathered and, with these simple words, launched America's improbable experiment in democracy. Farmers and scholars; statesmen and patriots who had traveled across an ocean to escape tyranny and persecution finally made real their declaration of independence at a Philadelphia convention that lasted through the spring of 1787.
The document they produced was eventually signed but ultimately unfinished. It was stained by this nation's original sin of slavery, a question that divided the colonies and brought the convention to a stalemate until the founders chose to allow the slave trade to continue for at least twenty more years, and to leave any final resolution to future generations.
Of course, the answer to the slavery question was already embedded within our Constitution – a Constitution that had at is very core the ideal of equal citizenship under the law; a Constitution that promised its people liberty, and justice, and a union that could be and should be perfected over time.
And yet words on a parchment would not be enough to deliver slaves from bondage, or provide men and women of every color and creed their full rights and obligations as citizens of the United States. What would be needed were Americans in successive generations who were willing to do their part – through protests and struggle, on the streets and in the courts, through a civil war and civil disobedience and always at great risk - to narrow that gap between the promise of our ideals and the reality of their time.
This was one of the tasks we set forth at the beginning of this campaign – to continue the long march of those who came before us, a march for a more just, more equal, more free, more caring and more prosperous America. I chose to run for the presidency at this moment in history because I believe deeply that we cannot solve the challenges of our time unless we solve them together – unless we perfect our union by understanding that we may have different stories, but we hold common hopes; that we may not look the same and we may not have come from the same place, but we all want to move in the same direction – towards a better future for of children and our grandchildren.
This belief comes from my unyielding faith in the decency and generosity of the American people. But it also comes from my own American story.
I am the son of a black man from Kenya and a white woman from Kansas. I was raised with the help of a white grandfather who survived a Depression to serve in Patton's Army during World War II and a white grandmother who worked on a bomber assembly line at Fort Leavenworth while he was overseas. I've gone to some of the best schools in America and lived in one of the world's poorest nations. I am married to a black American who carries within her the blood of slaves and slave owners – an inheritance we pass on to our two precious daughters. I have brothers, sisters, nieces, nephews, uncles and cousins, of every race and every hue, scattered across three continents, and for as long as I live, I will never forget that in no other country on Earth is my story even possible.
It's a story that hasn't made me the most conventional candidate. But it is a story that has seared into my genetic makeup the idea that this nation is more than the sum of its parts – that out of many, we are truly one.
Throughout the first year of this campaign, against all predictions to the contrary, we saw how hungry the American people were for this message of unity. Despite the temptation to view my candidacy through a purely racial lens, we won commanding victories in states with some of the whitest populations in the country. In South Carolina, where the Confederate Flag still flies, we built a powerful coalition of African Americans and white Americans.
This is not to say that race has not been an issue in the campaign. At various stages in the campaign, some commentators have deemed me either "too black" or "not black enough." We saw racial tensions bubble to the surface during the week before the South Carolina primary. The press has scoured every exit poll for the latest evidence of racial polarization, not just in terms of white and black, but black and brown as well.
And yet, it has only been in the last couple of weeks that the discussion of race in this campaign has taken a particularly divisive turn.
On one end of the spectrum, we've heard the implication that my candidacy is somehow an exercise in affirmative action; that it's based solely on the desire of wide-eyed liberals to purchase racial reconciliation on the cheap. On the other end, we've heard my former pastor, Reverend Jeremiah Wright, use incendiary language to express views that have the potential not only to widen the racial divide, but views that denigrate both the greatness and the goodness of our nation; that rightly offend white and black alike.
I have already condemned, in unequivocal terms, the statements of Reverend Wright that have caused such controversy. For some, nagging questions remain. Did I know him to be an occasionally fierce critic of American domestic and foreign policy? Of course. Did I ever hear him make remarks that could be considered controversial while I sat in church? Yes. Did I strongly disagree with many of his political views? Absolutely – just as I'm sure many of you have heard remarks from your pastors, priests, or rabbis with which you strongly disagreed.
But the remarks that have caused this recent firestorm weren't simply controversial. They weren't simply a religious leader's effort to speak out against perceived injustice. Instead, they expressed a profoundly distorted view of this country – a view that sees white racism as endemic, and that elevates what is wrong with America above all that we know is right with America; a view that sees the conflicts in the Middle East as rooted primarily in the actions of stalwart allies like Israel, instead of emanating from the perverse and hateful ideologies of radical Islam.
As such, Reverend Wright's comments were not only wrong but divisive, divisive at a time when we need unity; racially charged at a time when we need to come together to solve a set of monumental problems – two wars, a terrorist threat, a falling economy, a chronic health care crisis and potentially devastating climate change; problems that are neither black or white or Latino or Asian, but rather problems that confront us all.
Given my background, my politics, and my professed values and ideals, there will no doubt be those for whom my statements of condemnation are not enough. Why associate myself with Reverend Wright in the first place, they may ask? Why not join another church? And I confess that if all that I knew of Reverend Wright were the snippets of those sermons that have run in an endless loop on the television and You Tube, or if Trinity United Church of Christ conformed to the caricatures being peddled by some commentators, there is no doubt that I would react in much the same way
But the truth is, that isn't all that I know of the man. The man I met more than twenty years ago is a man who helped introduce me to my Christian faith, a man who spoke to me about our obligations to love one another; to care for the sick and lift up the poor. He is a man who served his country as a U.S. Marine; who has studied and lectured at some of the finest universities and seminaries in the country, and who for over thirty years led a church that serves the community by doing God's work here on Earth – by housing the homeless, ministering to the needy, providing day care services and scholarships and prison ministries, and reaching out to those suffering from HIV/AIDS.
In my first book, Dreams From My Father, I described the experience of my first service at Trinity:
"People began to shout, to rise from their seats and clap and cry out, a forceful wind carrying the reverend's voice up into the rafters….And in that single note – hope! – I heard something else; at the foot of that cross, inside the thousands of churches across the city, I imagined the stories of ordinary black people merging with the stories of David and Goliath, Moses and Pharaoh, the Christians in the lion's den, Ezekiel's field of dry bones. Those stories – of survival, and freedom, and hope – became our story, my story; the blood that had spilled was our blood, the tears our tears; until this black church, on this bright day, seemed once more a vessel carrying the story of a people into future generations and into a larger world. Our trials and triumphs became at once unique and universal, black and more than black; in chronicling our journey, the stories and songs gave us a means to reclaim memories that we didn't need to feel shame about…memories that all people might study and cherish – and with which we could start to rebuild."
That has been my experience at Trinity. Like other predominantly black churches across the country, Trinity embodies the black community in its entirety – the doctor and the welfare mom, the model student and the former gang-banger. Like other black churches, Trinity's services are full of raucous laughter and sometimes bawdy humor. They are full of dancing, clapping, screaming and shouting that may seem jarring to the untrained ear. The church contains in full the kindness and cruelty, the fierce intelligence and the shocking ignorance, the struggles and successes, the love and yes, the bitterness and bias that make up the black experience in America.
And this helps explain, perhaps, my relationship with Reverend Wright. As imperfect as he may be, he has been like family to me. He strengthened my faith, officiated my wedding, and baptized my children. Not once in my conversations with him have I heard him talk about any ethnic group in derogatory terms, or treat whites with whom he interacted with anything but courtesy and respect. He contains within him the contradictions – the good and the bad – of the community that he has served diligently for so many years.
I can no more disown him than I can disown the black community. I can no more disown him than I can my white grandmother – a woman who helped raise me, a woman who sacrificed again and again for me, a woman who loves me as much as she loves anything in this world, but a woman who once confessed her fear of black men who passed by her on the street, and who on more than one occasion has uttered racial or ethnic stereotypes that made me cringe.
These people are a part of me. And they are a part of America, this country that I love.
Some will see this as an attempt to justify or excuse comments that are simply inexcusable. I can assure you it is not. I suppose the politically safe thing would be to move on from this episode and just hope that it fades into the woodwork. We can dismiss Reverend Wright as a crank or a demagogue, just as some have dismissed Geraldine Ferraro, in the aftermath of her recent statements, as harboring some deep-seated racial bias.
But race is an issue that I believe this nation cannot afford to ignore right now. We would be making the same mistake that Reverend Wright made in his offending sermons about America – to simplify and stereotype and amplify the negative to the point that it distorts reality.
The fact is that the comments that have been made and the issues that have surfaced over the last few weeks reflect the complexities of race in this country that we've never really worked through – a part of our union that we have yet to perfect. And if we walk away now, if we simply retreat into our respective corners, we will never be able to come together and solve challenges like health care, or education, or the need to find good jobs for every American.
Understanding this reality requires a reminder of how we arrived at this point. As William Faulkner once wrote, "The past isn't dead and buried. In fact, it isn't even past." We do not need to recite here the history of racial injustice in this country. But we do need to remind ourselves that so many of the disparities that exist in the African-American community today can be directly traced to inequalities passed on from an earlier generation that suffered under the brutal legacy of slavery and Jim Crow.
Segregated schools were, and are, inferior schools; we still haven't fixed them, fifty years after Brown v. Board of Education, and the inferior education they provided, then and now, helps explain the pervasive achievement gap between today's black and white students.
Legalized discrimination - where blacks were prevented, often through violence, from owning property, or loans were not granted to African-American business owners, or black homeowners could not access FHA mortgages, or blacks were excluded from unions, or the police force, or fire departments – meant that black families could not amass any meaningful wealth to bequeath to future generations. That history helps explain the wealth and income gap between black and white, and the concentrated pockets of poverty that persists in so many of today's urban and rural communities.
A lack of economic opportunity among black men, and the shame and frustration that came from not being able to provide for one's family, contributed to the erosion of black families – a problem that welfare policies for many years may have worsened. And the lack of basic services in so many urban black neighborhoods – parks for kids to play in, police walking the beat, regular garbage pick-up and building code enforcement – all helped create a cycle of violence, blight and neglect that continue to haunt us.
This is the reality in which Reverend Wright and other African-Americans of his generation grew up. They came of age in the late fifties and early sixties, a time when segregation was still the law of the land and opportunity was systematically constricted. What's remarkable is not how many failed in the face of discrimination, but rather how many men and women overcame the odds; how many were able to make a way out of no way for those like me who would come after them.
But for all those who scratched and clawed their way to get a piece of the American Dream, there were many who didn't make it – those who were ultimately defeated, in one way or another, by discrimination. That legacy of defeat was passed on to future generations – those young men and increasingly young women who we see standing on street corners or languishing in our prisons, without hope or prospects for the future. Even for those blacks who did make it, questions of race, and racism, continue to define their world view in fundamental ways. For the men and women of Reverend Wright's generation, the memories of humiliation and doubt and fear have not gone away; nor has the anger and the bitterness of those years. That anger may not get expressed in public, in front of white co-workers or white friends. But it does find voice in the barbershop or around the kitchen table. At times, that anger is exploited by politicians, to gin up votes along racial lines, or to make up for a politician's own failings.
And occasionally it finds voice in the church on Sunday morning, in the pulpit and in the pews. The fact that so many people are surprised to hear that anger in some of Reverend Wright's sermons simply reminds us of the old truism that the most segregated hour in American life occurs on Sunday morning. That anger is not always productive; indeed, all too often it distracts attention from solving real problems; it keeps us from squarely facing our own complicity in our condition, and prevents the African-American community from forging the alliances it needs to bring about real change. But the anger is real; it is powerful; and to simply wish it away, to condemn it without understanding its roots, only serves to widen the chasm of misunderstanding that exists between the races.
In fact, a similar anger exists within segments of the white community. Most working- and middle-class white Americans don't feel that they have been particularly privileged by their race. Their experience is the immigrant experience – as far as they're concerned, no one's handed them anything, they've built it from scratch. They've worked hard all their lives, many times only to see their jobs shipped overseas or their pension dumped after a lifetime of labor. They are anxious about their futures, and feel their dreams slipping away; in an era of stagnant wages and global competition, opportunity comes to be seen as a zero sum game, in which your dreams come at my expense. So when they are told to bus their children to a school across town; when they hear that an African American is getting an advantage in landing a good job or a spot in a good college because of an injustice that they themselves never committed; when they're told that their fears about crime in urban neighborhoods are somehow prejudiced, resentment builds over time.
Like the anger within the black community, these resentments aren't always expressed in polite company. But they have helped shape the political landscape for at least a generation. Anger over welfare and affirmative action helped forge the Reagan Coalition. Politicians routinely exploited fears of crime for their own electoral ends. Talk show hosts and conservative commentators built entire careers unmasking bogus claims of racism while dismissing legitimate discussions of racial injustice and inequality as mere political correctness or reverse racism.
Just as black anger often proved counterproductive, so have these white resentments distracted attention from the real culprits of the middle class squeeze – a corporate culture rife with inside dealing, questionable accounting practices, and short-term greed; a Washington dominated by lobbyists and special interests; economic policies that favor the few over the many. And yet, to wish away the resentments of white Americans, to label them as misguided or even racist, without recognizing they are grounded in legitimate concerns – this too widens the racial divide, and blocks the path to understanding.
This is where we are right now. It's a racial stalemate we've been stuck in for years. Contrary to the claims of some of my critics, black and white, I have never been so naive as to believe that we can get beyond our racial divisions in a single election cycle, or with a single candidacy – particularly a candidacy as imperfect as my own.
But I have asserted a firm conviction – a conviction rooted in my faith in God and my faith in the American people – that working together we can move beyond some of our old racial wounds, and that in fact we have no choice is we are to continue on the path of a more perfect union.
For the African-American community, that path means embracing the burdens of our past without becoming victims of our past. It means continuing to insist on a full measure of justice in every aspect of American life. But it also means binding our particular grievances – for better health care, and better schools, and better jobs - to the larger aspirations of all Americans -- the white woman struggling to break the glass ceiling, the white man whose been laid off, the immigrant trying to feed his family. And it means taking full responsibility for own lives – by demanding more from our fathers, and spending more time with our children, and reading to them, and teaching them that while they may face challenges and discrimination in their own lives, they must never succumb to despair or cynicism; they must always believe that they can write their own destiny.
Ironically, this quintessentially American – and yes, conservative – notion of self-help found frequent expression in Reverend Wright's sermons. But what my former pastor too often failed to understand is that embarking on a program of self-help also requires a belief that society can change.
The profound mistake of Reverend Wright's sermons is not that he spoke about racism in our society. It's that he spoke as if our society was static; as if no progress has been made; as if this country – a country that has made it possible for one of his own members to run for the highest office in the land and build a coalition of white and black; Latino and Asian, rich and poor, young and old -- is still irrevocably bound to a tragic past. But what we know -- what we have seen – is that America can change. That is true genius of this nation. What we have already achieved gives us hope – the audacity to hope – for what we can and must achieve tomorrow.
In the white community, the path to a more perfect union means acknowledging that what ails the African-American community does not just exist in the minds of black people; that the legacy of discrimination - and current incidents of discrimination, while less overt than in the past - are real and must be addressed. Not just with words, but with deeds – by investing in our schools and our communities; by enforcing our civil rights laws and ensuring fairness in our criminal justice system; by providing this generation with ladders of opportunity that were unavailable for previous generations. It requires all Americans to realize that your dreams do not have to come at the expense of my dreams; that investing in the health, welfare, and education of black and brown and white children will ultimately help all of America prosper.
In the end, then, what is called for is nothing more, and nothing less, than what all the world's great religions demand – that we do unto others as we would have them do unto us. Let us be our brother's keeper, Scripture tells us. Let us be our sister's keeper. Let us find that common stake we all have in one another, and let our politics reflect that spirit as well.
For we have a choice in this country. We can accept a politics that breeds division, and conflict, and cynicism. We can tackle race only as spectacle – as we did in the OJ trial – or in the wake of tragedy, as we did in the aftermath of Katrina - or as fodder for the nightly news. We can play Reverend Wright's sermons on every channel, every day and talk about them from now until the election, and make the only question in this campaign whether or not the American people think that I somehow believe or sympathize with his most offensive words. We can pounce on some gaffe by a Hillary supporter as evidence that she's playing the race card, or we can speculate on whether white men will all flock to John McCain in the general election regardless of his policies.
We can do that.
But if we do, I can tell you that in the next election, we'll be talking about some other distraction. And then another one. And then another one. And nothing will change.
That is one option. Or, at this moment, in this election, we can come together and say, "Not this time." This time we want to talk about the crumbling schools that are stealing the future of black children and white children and Asian children and Hispanic children and Native American children. This time we want to reject the cynicism that tells us that these kids can't learn; that those kids who don't look like us are somebody else's problem. The children of America are not those kids, they are our kids, and we will not let them fall behind in a 21st century economy. Not this time.
This time we want to talk about how the lines in the Emergency Room are filled with whites and blacks and Hispanics who do not have health care; who don't have the power on their own to overcome the special interests in Washington, but who can take them on if we do it together.
This time we want to talk about the shuttered mills that once provided a decent life for men and women of every race, and the homes for sale that once belonged to Americans from every religion, every region, every walk of life. This time we want to talk about the fact that the real problem is not that someone who doesn't look like you might take your job; it's that the corporation you work for will ship it overseas for nothing more than a profit.
This time we want to talk about the men and women of every color and creed who serve together, and fight together, and bleed together under the same proud flag. We want to talk about how to bring them home from a war that never should've been authorized and never should've been waged, and we want to talk about how we'll show our patriotism by caring for them, and their families, and giving them the benefits they have earned.
I would not be running for President if I didn't believe with all my heart that this is what the vast majority of Americans want for this country. This union may never be perfect, but generation after generation has shown that it can always be perfected. And today, whenever I find myself feeling doubtful or cynical about this possibility, what gives me the most hope is the next generation – the young people whose attitudes and beliefs and openness to change have already made history in this election.
There is one story in particularly that I'd like to leave you with today – a story I told when I had the great honor of speaking on Dr. King's birthday at his home church, Ebenezer Baptist, in Atlanta.
There is a young, twenty-three year old white woman named Ashley Baia who organized for our campaign in Florence, South Carolina. She had been working to organize a mostly African-American community since the beginning of this campaign, and one day she was at a round table discussion where everyone went around telling their story and why they were there.
And Ashley said that when she was nine years old, her mother got cancer. And because she had to miss days of work, she was let go and lost her health care. They had to file for bankruptcy, and that's when Ashley decided that she had to do something to help her mom.
She knew that food was one of their most expensive costs, and so Ashley convinced her mother that what she really liked and really wanted to eat more than anything else was mustard and relish sandwiches. Because that was the cheapest way to eat.
She did this for a year until her mom got better, and she told everyone at the round table that the reason she joined our campaign was so that she could help the millions of other children in the country who want and need to help their parents too.
Now Ashley might have made a different choice. Perhaps somebody told her along the way that the source of her mother's problems were blacks who were on welfare and too lazy to work, or Hispanics who were coming into the country illegally. But she didn't. She sought out allies in her fight against injustice.
Anyway, Ashley finishes her story and then goes around the room and asks everyone else why they're supporting the campaign. They all have different stories and reasons. Many bring up a specific issue. And finally they come to this elderly black man who's been sitting there quietly the entire time. And Ashley asks him why he's there. And he does not bring up a specific issue. He does not say health care or the economy. He does not say education or the war. He does not say that he was there because of Barack Obama. He simply says to everyone in the room, "I am here because of Ashley."
"I'm here because of Ashley." By itself, that single moment of recognition between that young white girl and that old black man is not enough. It is not enough to give health care to the sick, or jobs to the jobless, or education to our children.
But it is where we start. It is where our union grows stronger. And as so many generations have come to realize over the course of the two-hundred and twenty one years since a band of patriots signed that document in Philadelphia, that is where the perfection begins.
Monday, March 17, 2008
Rave of the Day for March 17, 2008: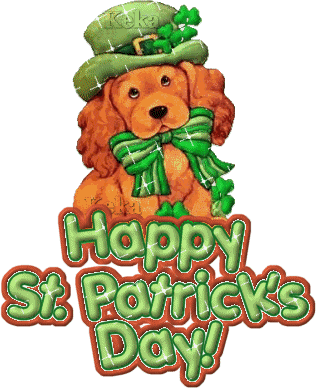 glitter-graphics.com
In the mood for some funny business? Here's the latest from Dr. Karen....
The George W. Bush Presidential Library is now in the planning stages. You'll want to be the first at your corporation to make a contribution to this great man's legacy. The Library will include:
1. The Hurricane Katrina Room, which is still under construction.
2. The Alberto Gonzales Room, where you can't remember anything.
3. The Texas Air National Guard Room, where you don't have to even show up.
4. The Walter Reed Hospital Room, where they don't let you in.
5. The Guantanamo Bay Room, where they don't let you out.
6. The Weapons of Mass Destruction Room (which no one has been able to find).
7. The Iraq War Room. After you complete your first tour, they make you go back for a second, third, fourth, and sometimes fifth tour.
8. The Dick Cheney Room, in the famous undisclosed location, complete with shooting gallery.
9. Plans also include: The K-Street Project Gift Shop - where you can buy (or just steal) an election.
10. The Airport Men's Room, where you can meet some of your favorite Republican Senators.
11. Last, but not least, there will be an entire floor devoted to a 7/8 scale model of the President's ego.
To highlight the President's accomplishments, the museum will have an electron microscope to help you locate them. A map of the museum will be in United States of American with interpretications provided by voluntary people who won't get paid.
Friday, March 14, 2008
Rave of the Day for March 14, 2008:
This is posted in honor of Chip D. Dog, who is recovering from an ear infection and who has had to wear one of those awful funnel collars since Tuesday. Kudos to Pete for sending it....


Ten Peeves that Dogs Have About Humans

1. Blaming your farts on me..... not funny... not funny at all!!!

2. Yelling at me for barking. I'M A FRIGGIN' DOG!

3. Taking me for a walk, then not letting me check stuff out. Exactly whose walk is this anyway?

4. Any trick that involves balancing food on my nose. Stop it!

5. Any haircut that involves bows or ribbons. Now you know why we chew your stuff up when you're not home.

6. The sleight of hand, fake fetch throw. You fooled a dog! Whoooo Hoooooooo! What a proud moment for the top of the food chain.

7. Taking me to the vet for "the big snip", then acting surprised when I freak out every time we go back!

8. Getting upset when I sniff the crotches of your guests. Sorry, but I haven't quite mastered that handshake thing yet.

9. Dog sweaters. Hello??? Haven't you noticed the fur?

10. How you act disgusted when I lick myself. Look, we both know the truth. You're just jealous.

Now lay off me on some of these things. We both know who's boss here! You don't see me picking up your poop, do you?

Thursday, March 13, 2008
Flare alert!
I was only trying to do what my docs have been harping me about: begin a cardiovascular exercise routine (I do aquacise for arthritis three days a week, but I am told this does not count). Not that I actually believe the ones who claim I can cure my fibromyalgia with exercise, but I got rid of most of the episodes of shortness of breath once I went on meds for exercise-induced asthma in January, so I thought it was time to give my Gazelle machine (a non-impact glider) a try again. I started slowly, as instructed, with just five minutes on Saturday, at a speed that I doubt was even fast enough to increase my heart rate.
During that five minutes, I experienced foot cramps, back spasms, and shooting pains in my right ankle. Afterward, I was slightly more fatigued than usual, and I was a bit sore, but what I realllly noticed was my brain fog went into overdrive! I took a muscle relaxant that night, went to bed early, and ended up stuck in bed for 12 hours.
Sunday I did no exercise at all. I felt kinda hung over, so I did not leave the house until 4:30pm and then did only two brief errands. To tell you the truth, I don't even remember what happened the rest of the day.
Monday, I overslept, waking up at 11am, and just barely made it to aquacise. The warm water stretching helped my soreness, but I still seemed kinda flaky mentally. I was able to do most of my usual activities though.
Tuesday, I decided it was time for another five minutes on the Gazelle. This time, no ankle pain, and the foot cramps and back spasms were slightly less. But holy cow, I was exhausted afterward!
The brain fog really spiked too. For example, I let the dog out in the back yard, put something in the recycle bin in the garage, started some dishes, and was totally startled to discover that the dog was back indoors. I have absolutely no recollection of letting him back in.
Wednesday, overslept again, crawled to aquacise, and was exhausted again already by the time it was done. Fell asleep for two hours on the couch just trying to read the newspaper. I was all set to start writing an article, but I can't think my way out of a paper bag now.
All this from adding a measly five minutes to my exercise routine. The equivalent of walking maybe two blocks, and very slowly at that? I think docs severely underestimate the impact of post-exertion malaise in people with fibromyalgia and other fatiguing ailments.
I wish the Sioux Falls rheumatologists who have insisted exercise will cure me could feel like this for a few days. I guarantee you they'd be stuck in bed completely unable to cope with the pain and exhaustion. And they be scared to death to even be in the same room with an exercise machine.
I haven't given up. But I am disappointed that I am too foggy once again to put together an article I had intended to write two months ago. I want my brain back!
Tuesday, March 11, 2008
Need to grumble....
Got an explanation of benefits from my insurance company, and they are denying payment for a mammogram I had to have last month. This was a follow-up to a breast biopsy ordered by a doctor. I called the insurance guys yesterday, and they informed me that follow-ups to biopsies are not covered, but the annual routine mammograms ARE covered, which makes absolutely no sense to me.
Like it's my fault I have fibrocystic disease, or whatever it's called. And I'm being punished for being responsible and following doc's orders by having a biopsy to make sure I'm not in the early stage of cancer. Hey, insurance guys, I'm actually saving you money by not waiting until I have a large tumor.
Got my final bill from Mayo yesterday. Even though last month I won my dispute with insurance over them not initially covering my nerve conduction study, they have yet to follow through with Mayo. Had to call Mayo and let them know my insurance company is dragging its feet.
Also had to arrange a payment plan with Mayo. They asked for 10 percent per month of the total amount I owe, but I can't even afford that. Managed to negotiate my way down to 6 percent.
Should be happy I was able to work something out, but instead I am grumpy that I now have another long-term debt on my hands. I am willing to bet this situation is rather common with everyone here. It feels like sinking in quicksand.
The ever-mounting financial problems related to my illness have my poor husband stressed to the max. Things were quite tense yesterday between us yesterday, which is quite rare for us. I had a sleepless night.
Other stuff going on: my seven month old nephew is in the hospital with viral pneumonia. He's been there for a week, and they won't release him to go home until they can get him safely completely off oxygen. Poor little dude.
My pup's not well either. He's got a raging ear infection, and the ear drops didn't work, so we've got him on anti-biotics. And we had to put one of those funnel collars on him to keep him from scratching at his ears, so he's in major mope mode.
I guess I'm in mope mode too. Sigh.
Rave of the Day for March 11, 2008:
Desperately in need of some funnies. These are courtesy of Pete....


Smile!

A woman goes to the doctor for her yearly physical.
The nurse starts with certain basic items.
'How much do you weigh?' she asks.
'115.' she says.
The nurse puts her on the scale.
It turns out her weight is 140.

The nurse asks, 'Your height?'
'5 foot 8.' she says.
The nurse checks and sees that she only measures 5' 5".

She then takes her blood pressure
And tells the woman it is very high.

'Of course it's high!' she screams,
'When I came in here I was tall and slender!
Now I'm short and fat!'
~~~~~~~~~~~~~~~~~~~~~~~~~~~~~~~~~~~~~~~~~~~~~~~~~~
Flour and Water

How come when you mix water and flour together you get glue? And then you add eggs and sugar, and you get cake?

Where did the glue go?

NEED AN ANSWER? You know darned well where it went! That's what makes the cake stick to your BUTT!!!

Monday, March 10, 2008
Rave of the Day for March 10, 2008:
This article has made its rounds on the internet, but I don't remember ever posting it here, so here goes. Same author as "The Letter to Normals" on Fibrohugs....
She Cries
More financial nonsense going on, which I might post about tomorrow. I am too exhausted to do it tonight.
Sunday, March 09, 2008
Rave of the Day for March 9, 2008:
I've never been much of a fashion plate, but the following really cracked me up! Ducky sent it to me, I think because she knows I may have been guilty of item #4, heh heh....


Subject: FASHION

Many of us [those over 40, WAY over 40, or hovering near 40] are quite confused about how we should present ourselves. We are unsure about the kind of image we are projecting and whether or not we are correct as we try to conform to current fashions. Despite what you may have seen, the following combinations DO NOT go together and should be avoided:

1. A nose ring and bifocals

2. Spiked hair and bald spots

3. A pierced tongue and dentures

4. Miniskirt and support hose

5. Ankle bracelet and corn pads

6. Speedo's and cellulite

7. A belly ring and a gall bladder scar

8. Unbuttoned disco shirt and a heart monitor

9. Midriff shirt and a midriff bulge

10. Bikinis and liver spots

11. Short shorts and varicose veins

12. Inline skates and a walker

Please keep these basic guidelines foremost in your mind when you shop!

Saturday, March 08, 2008
Rave of the Day for March 8, 2008:
Jodi Bassett has provided more valuable info on her website A Hummingbird's Guide. This page deals with everything from how to find a reputable doc to nutritional supplements to avoiding cure-all scams....
Treating M.E. - The Basics
I tried to do five minutes on the Gazelle glider today. I got foot cramps, back spasms and a shooting pain in my right ankle, so I won't be doing marathons anytime soon. But I will try again on Tuesday and see if the situation improves.
Thursday, March 06, 2008
At long last, checking in....
FINALLY finished with the taxes and assembling scrapbook pix for 2006/2007 (the wascally wabbit shown at left was in my front yard last summer). Got other projects competing for my attention, and I am months overdue for a But You Don't Look Sick article, but thought I'd better pop in here with something besides jokes. Just to prove that I am alive if unwell.
I don't even remember what I've even mentioned here since the Mayo visit in January except for financial stuff and that rant about finding out I owe the IRS money. So some of the following may be a repeat. Such is the peril of those with cognitive dysfunction, heh heh.
In January, one of my credit card accounts was compromised. I was in possession of the card at all times except for when I used it at the hotel in Rochester, but the attempt to use my account number wasn't until three weeks later, so I doubt that anyone in Rochester used it. I'm pretty sure what happened was that someone bought my number from a list, which is one of the most common methods of ID theft.
I wasn't the only one with this credit card company whose number had been stolen, and the company caught the problem before too much activity occurred, so I didn't get fraudulently charged or anything. But I still felt robbed all the same. And it was a major pain in the ass proving to the credit card company my identity.
The biggest obstacle to getting a new account set up was that I everyone I spoke to on the phone had a heavy accent (as in their first language wasn't English), and there was a lot of background noise because I don't think the account reps were in the United States. Not cool for someone hard of hearing like me. I kept thinking I was being asked what COUNTRY I lived in when the rep was asking what COUNTY.
Also, some of the identifying questions were ones I didn't know the answers to, such as geographical ones. I've only lived in Sioux Falls a year and hardly ever leave the house except to go to aquacise, so how the hell would I know the name of the park nearest my house? And I get the numbers of the interstates confused, so I don't know whether I live near 29 or 229.
The other thing that pissed me off about having to change accounts is that I'd had the same one for 10 years, and it was the one I used for automated charges. The credit card company had actually closed my account before they notified me of it, and Netflix had tried to make my February payment, and it didn't go through. So now I get to go back through my automated online accounts and change all the info, grumble.
Have been on the immuno-suppressant Imuran since January. I've had some hair loss and some stomach pain, but the main side effect has been HEADACHES, often daily ones. They are unpredictable and don't seem to respond to anything, but being on the computer seems to exacerbate them, which is another reason I haven't been posting much.
I would consider going off the stuff except that it does seem to be helping with the Sjogren's, at least with some things it helps. All the swelling in my glands and lymph nodes is gone, the rashes on my arms are gone, and the sores in my mouth are less frequent and less severe. Most importantly, my neuropathy symptoms, while not gone, are less constant and have stopped getting worse.
The trade-off, though, is that my fibromyalgia is bothering me more now than it has in years! I know that doesn't make sense, but it's true. I think it's not an actual increase in severity, it's just that I was on sensory overload trying to deal with two painful ailments at once, and now that one has improved I am able to comprehend just how bad the other was all this time.
So even though the medication is doing what it's supposed to, I am not nearly as functional as I had hoped. I had unfortunately underestimated just how severe my fibromyalgia is. It doesn't look like I'm going to be returning to the wonderful world of the employed anytime soon, if ever.
It's kinda embarrassing that as much as I have tried to be an advocate for getting others to understand that fibromyalgia can be disabling, I had pooh-poohed its true impact on my own life. So whether it's the Sjogren's or the fibromyalgia, I am still stuck requiring up to 12 hours of rest per day, still stuck with the sledgehammer of fatigue and dozing off on the couch, still stuck with significant cognitive dysfunction, still stuck with muscles that spasm and twitch like a marionette without strings, still stuck with pain that averages 8 out of 10 most days. The bitch is that there is pretty much no treatment for fibromyalgia that I haven't already tried.
The only thing I can think of to work on is exercise, which is tricky because I tolerate most activity so poorly. I have been on asthma medication for two months, so it is time to see if I can manage some mild exertion without shortness of breath. What I've got in mind is my Gazelle machine, which I haven't been able to use for the past year.
I'm going to start with just five minutes on Saturday and see how that goes. I'll probably use my albuterol prior. If it causes more fatigue than usual, I'll stick with the five minutes once a week until it stops making me feel worse.
Then I'll try five minutes two days the next week, five minutes three days the next week, go up to seven minutes for a few weeks, then 10 minutes, and then add five minutes every three weeks or so until I reach 30 minutes three days a week. This is of course barring any setbacks that could sideline me. I figure the quickest I'm gonna reach 30 minutes on the Gazelle is six months from now, but anything is better than nothing.
This is of course in addition to the aquacise I'm already doing, which is 40 minutes three days a week. I need the warm water therapy too much to ever give it up. But I suppose if by some miracle I could improve enough, I'd like to try underwater cycling someday.
I'm not an idiot. I'm not buying the assertion the Sioux Falls rheumatologists have made that exercise is gonna cure me. If that were even remotely true, I would experienced complete remission back in 2001 when I was going on four mile hikes in the mountains.
But I would be doing myself a disservice to not even test out whether I have actually remedied my exercise-induced asthma. If I still can't tolerate the Gazelle machine, fine, but at least I won't be lying when I tell my docs that I am doing everything I can to get better. And if I can somehow get some quality of life back in the process, that would be way cool.
So what have I been doing with myself when I've been in too much pain to use the computer? Watching stuff on the DVR, mostly. At first, I recorded reruns of "House", reruns of "Monk", Def Comedy Jam, specials from Comedy Central's standup marathon in January, and "Lost" of course.
Then in February, Turner Classic Movies had their "31 Days of Oscar", where they air Academy Award-winning films back to back, over 350 of them total. I managed to record at least 40 of them, which, by the way is the surest way to use up all the space on the DVR, heh heh. I generally have been watching one movie a day and have 15 left to view.
I have been keeping a list of the films I've seen so far, both on TCM and via Netflix, and I intend to do mini-reviews of them at some point. Just keep in mind that because of the sheer volume of stuff I've watched, my memory of details such as actors' names might be poor. But I will try to at least post whether something is interesting or worth viewing.
I am not quite caught up on medical matters. I still need to input the data from the Mayo Clinic tests on my lab summaries and look up a few neurological terms that were in the exam notes because I don't know what they mean. I am having some new vision trouble, so I have an appointment with an opthalmologist the week after next.
Also, I discovered while filing taxes that the medical expense sheets I created need to be tweaked a bit so that I can categorize them as prescription, hospital, doctor or lab costs. What I will do is use the document I used for 2007/2008 as a template. Then I will enter expenses throughout the year as they are incurred so I won't forget anything or have to spend weeks next February trying to do it all at once.
Between my Florida trip, Christmas, a baptism and all kinds of e-mail pix of my niece and two nephews, I ended up with 187 images I want to scrapbook. I have ordered prints, which will be ready Sunday. I managed to get a 12x12 album at Hobby Lobby for only $10, which is a good thing because these pix will fill the entire book.
As for But You Don't Look Sick articles, I think the first one should be about how to prepare for a visit to a research hospital like the Mayo Clinic. No, seriously, I feel like an expert on the subject now. When I get done with that, I have book reviews and some ideas for quick product reviews that should keep me out of trouble for awhile.
One of my resolutions this year was to cook more, and I've not followed through with that in the way I would like. I have made a few dishes for myself during the week instead of pre-made stuff, but I haven't tried any new recipes or used the rotisserie yet. And I haven't haven't had anyone over to the house for a meal yet.
Part of the reason I haven't invited anyone over yet is that the house needs cleaning! I'm sorry to say that I haven't been able to dust since Christmas. And the command center, while not as cluttered as it was while I was filing taxes, is still in need of tidying.
There's more, but holy cow, I've written a novel already. That's what I get for going so long between real posts.
Yep, I'm alive, just unwell.
Tuesday, March 04, 2008
Rave of the Day for March 4, 2008:
More twisted humor. This one also from Pete.....

Rx for boring day


A nice, calm and respectable lady went into the pharmacy, walked up to the pharmacist, looked straight into his eyes, and said, "I would like to buy some cyanide."

The pharmacist asked, "Why in the world do you need cyanide?"

The lady replied, "I need it to poison my husband."

The pharmacist's eyes got big and he exclaimed, "Lord have mercy! I can't give you cyanide to kill your husband. That's against the law! I'll lose my license! They'll throw both of us in jail! All kinds of bad things will happen. Absolutely not! You CANNOT have any cyanide!"

The lady reached into her purse and pulled out a picture of her husband in bed with the pharmacist's wife.

The pharmacist looked at the picture and replied, "Well now, that's different. You didn't tell me you had a prescription."

Monday, March 03, 2008
Bonus Rave of the Day for March 3, 2008:
How 'bout some literary humor? These are courtesy of Pete....

Famous Poems Rewritten as Limericks


Stopping by the Woods on a Snowy Evening

There once was a horse-riding chap
Who took a trip in a cold snap.
He stopped in the snow,
But he soon had to go:
He was miles away from a nap.


The Raven

There once was a girl named Lenore
And a bird and a bust and a door
And a guy with depression
And a whole lot of questions,
And the bird always says 'Nevermore.'


Do Not Go Gentle Into That Good Night

There was an old father of Dylan
Who was seriously, mortally illin'.
"I want," Dylan said,
"You to bitch till you're dead.
I'll be cheesed if you kick it while chillin'."


I Wandered Lonely As a Cloud

There once was a poet named Will
Who tramped his way over a hill
And was speechless for hours
Over some stupid flowers.
This was years before TV, but still.


Footprints in the Sand

There was a man who, at low tide,
Would walk with the Lord by his side
Jesus said, "Now, look back;
You'll see one set of tracks.
That's when you got a piggy-back ride."

Rave of the Day for March 3, 2008:
I may have posted at least some of these before, but they're still funny. Thanks to Pete for the giggles....


HUMOR FOR LEXOPHILES (LOVERS OF WORDS)

I wondered why the baseball was getting bigger. Then it hit me.

Police were called to a day care where a 3-yr-old was resisting a rest.

Did you hear about the guy whose whole left side was cut off? He's all right now.

The roundest knight at King Arthur's round table was Sir Cumference.

The butcher backed up into the meat grinder & got a little behind in his work.

To write with a broken pencil is pointless.

When fish are in schools, they sometimes take debate.

The short fortune teller who escaped from prison was a small medium at large.

A thief who stole a calendar got 12 months.

A thief fell & broke his leg in wet cement. He became a hardened criminal.

When the smog lifts in Los Angeles, U.C.L.A.

The dead batteries were given out free of charge.

A dentist & a manicurist fought tooth and nail.

A bicycle can't stand alone; it is two tired.

A will is a dead giveaway.

Time flies like an arrow; fruit flies like a banana.

A backward poet writes inverse.

In a democracy it's your vote that counts; in feudalism, it's your Count that votes.

A chicken crossing the road: poultry in motion.

If you don't pay your exorcist you can get repossessed.

Show me a piano falling down a mine shaft & I'll show you A-flat miner.

The guy who fell onto an upholstery machine was fully recovered.

A grenade fell onto a kitchen floor in France, resulted in Linoleum Blownapart.

You are stuck with your debt if you can't budge it.

A calendar's days are numbered.

A lot of money is tainted: 'Taint yours, and 'taint mine.

A boiled egg is hard to beat.

He had a photographic memory which was never developed.

Those who get too big for their britches will be exposed in the end.

When you've seen one shopping center, you've seen a mall.

When she saw her first strands of gray hair, she thought she'd dye.

Bakers trade bread recipes on a knead to know basis.

Santa's helpers are subordinate clauses.

Acupuncture: a jab well done.

And of course the old classic: When the fat lady backed into the fan, it disaster.